The GL events Venues network is launching a hybrid-event service offer – the first of its kind on the market – that combines a range of complementary face-to-face and remote solutions to create an even more powerful experience.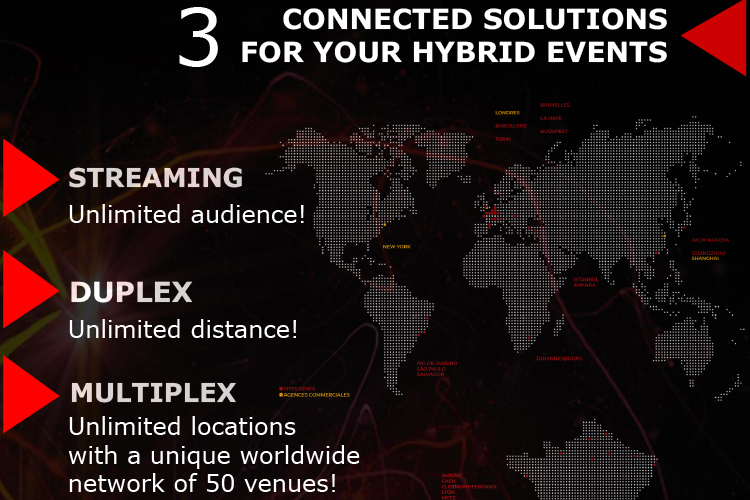 A hybrid approach that ensures the high quality and safety of your events
A secure environment with optimised health and safety measures, highly reliable connectivity and cutting-edge technical equipment, a specific team of specialists to help you customise your project, etc. GL events Venues provides all the expertise and services needed to increase the impact and power of your events in order to bring people together in complete safety, and even at distance.
A range of connected solutions for the Group's customers and prospects
The GL events Group has developed a comprehensive range of connected solutions for existing and new customers who would like to organise hybrid events in the 50 venues operated by the Group.
This one-of-a-kind service offer will enable businesses, institutions and associations to put in place a digital extension of the physical event they organise in one of our venues. Despite restrictions on travel and gatherings, our solutions allow customers to bring together large numbers of participants both on site (in the venue) and online, delivering live content and enabling all participants to interact with each other, as well as with the event's speakers and sponsors.
 
Focus on the mutliplex solution 
The fact that our venues are located in major business-tourism destinations around the world means we can give our customers the opportunity to hold their event simultaneously in several regional or international hubs. Participants can physically attend the event at the venue closest to their place of residence, or online, if travel is not an option. As such, we have the ability to provide our customers with a coordinated, socially-responsible, turnkey solution.
The primary concern of GL events is to ensure that the events can be organised and visitors, exhibitors and delegates can be accommodated in our venues with the best possible hygiene conditions and health security.
In its 50 venues in France and in the world, the Group have implemented health security measures and facilities to prevent Covid-19 risks.
>>
Sanitary guidelines GL events Venues
>>
Informations Coronavirus - COVID-19