Combining sport and dreams.
 
Since 2010, the Parisian saddle-maker Hermès has been hosting the Saut Hermès at the Grand Palais in Paris. This 3-day competition brings together the world's top show jumping riders and horses. The event also celebrates horse-riding with an exhibition of the company's saddlery expertise, and an original performing-arts show. This year, le Saut Hermès will also be offering visitors a virtual reality experience based on the theme of dreams.
Hermès has once again renewed its partnership with the GL events Group for the production of this prestigious event. The Group - a leading integrated event-services provider - draws on all its know-how to ensure the event is a resounding success, for both the participants and the public.

From 22 to 24 March, the world's top 50 riders will be competing in CSI 5* international show jumping classes - the highest category of show-jumping competition organised by the French Equestrian Federation (FFE) and the International Equestrian Federation (FEI).
In addition, a total of 20 young international riders (sponsored by riders taking part in the CSI 5* classes) will be competing in "The Talents Hermès" classes organised each day, underlining one of Hermès core values: sharing experience and handing down knowledge to the next generation. All the riders are under 25 years old.
The layout of the 10 courses has been entrusted to the Spanish international course designer, Santiago Varela Ullastres. He will be assisted by the French course designer Grégory Bodo and the rider Michel Robert, Sports Consultant to the Saut Hermès. Once again, the Saut Hermès promises to serve up 3 days of top-class riding events full of power and grace, speed and precision.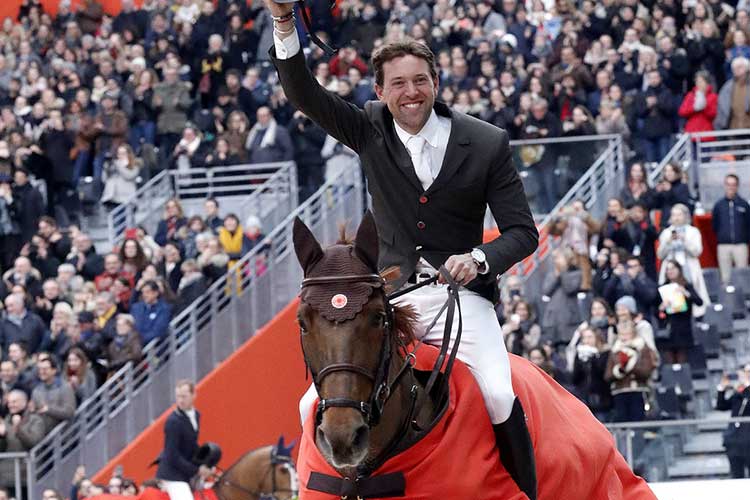 Simon Delestre and Hermès Ryan - Saut Hermès 2018 - © Frédéric Chéhu
The equestrian performing-arts show created especially for the event will combine technique, agility, emotion and poetry. Entitled, "L'Envol" (Take-off), the show brings together the skills and talent of the equestrian artist Lorenzo, accompanied by his 12 Lusitano-horses, and the leading violinist Nathalie Shaw, accompanied by a string orchestra.
The "L'échappée belle" (Great escape) VR-module, designed and created by Hermès, will allow visitors to experience the feeling of flying on horse-back, thanks to virtual reality.