A new equestrian event to be held in the French capital of horse-riding
The Printemps des Sports Équestres (Spring Equestrian Sports Festival) is an event created in partnership between the French Equestrian Federation and GL events Equestrian Sport. The event will take place from 20 to 24 April 2022 at the Grand Parquet in Fontainebleau, an iconic venue for equestrian competitions.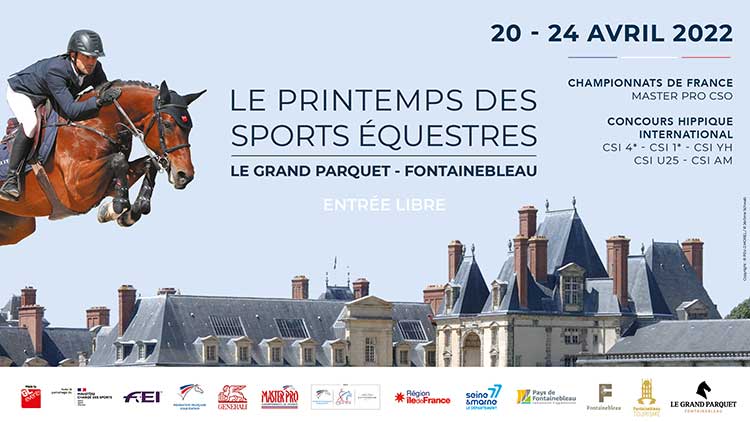 The Printemps des Sports Équestres has a varied programme in store for visitors
The event will notably mark the return of the French National Championships and be hosting an international 4* show-jumping competition. 

The Printemps des Sports Equestres will also be hosting the CSI YH, a competition for young horses (7 to 8 years old), with an eye on the 2024 Olympic Games. 

Several other competitions will be organised for younger riders and amateurs, including the CSI U25, CSI 1* and CSI Amateur competitions.
 
A programme of activities that caters for everyone
For the occasion, the Grand Parquet will be organising a series of activities aimed at both children and adults, so they can share their common passion. The values of sport, sharing and respect are at the heart of the 2022 Printemps des Sports Equestres. 

The programme includes pony and horse rides around the Terrain d'Honneur of the Grand Parquet, as well as rides on the horses of the environmentally-friendly T'Choupa merry-go-round and workshops to raise awareness about protecting the environment, with Fontainebleau cheval and the ONF (French Forestry Agency).

Throughout the day on Sunday 24 April, visitors will also have the opportunity to watch demonstrations by the Mounted Band of the Cavalry Regiment of the Garde Républicaine.

GL events Equestrian Sport intends to make the Printemps des Sports Equestres an annual event.