Lyon For Events launches a new work space for socially-engaged players in the events sector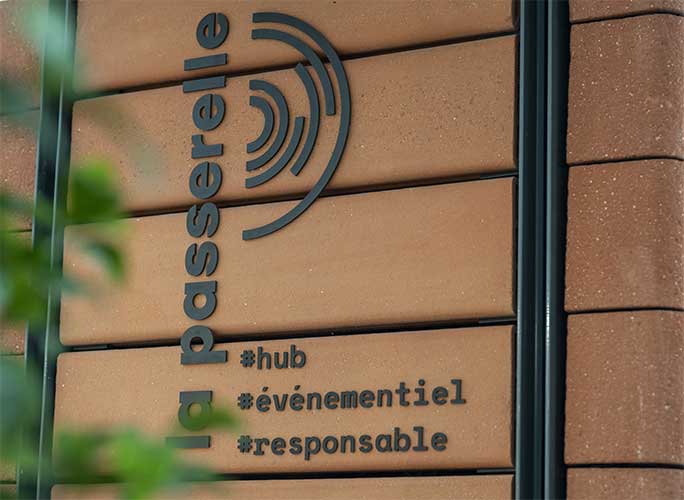 ©Quentin Lafont
LA PASSERELLE (the "footbridge") – a new shared space dedicated to socially-responsible players in the events sector – is located in the heart of the Lyon Convention Centre. Created by Lyon For Events, which groups together the Lyon-based venues of the GL events Group, this space has been designed to bring together associations, entrepreneurs and organisations to promote networking, meetings and dialogue in a spirit of solidarity and co-creation.
The hub for socially-responsible events in the heart of the Lyon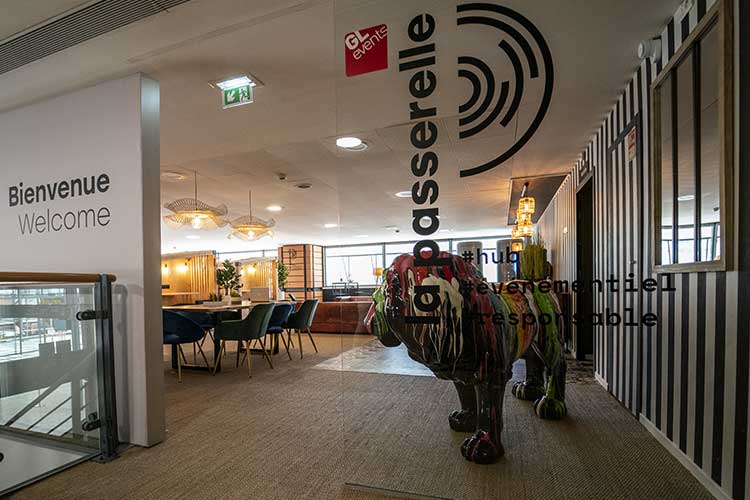 ©Quentin Lafont
This shared meeting and work space is open to all event industry professionals from the Lyon metropolitan area: caterers, technicians, producers, subcontractors, etc. What they have in common is that they are all driven by a spirit of solidarity and the desire to apply socially-responsible work methods and approaches to events.
LA PASSERELLE will be managed in collaboration with the Lyon Convention Bureau and a network of partners. It will be a place devoted to workshops, meetings with a qualified network of partners, sharing skills and methods, strategic partnerships and exchanging best practices.
It will establish links and unite a community of engaged and socially-responsible members.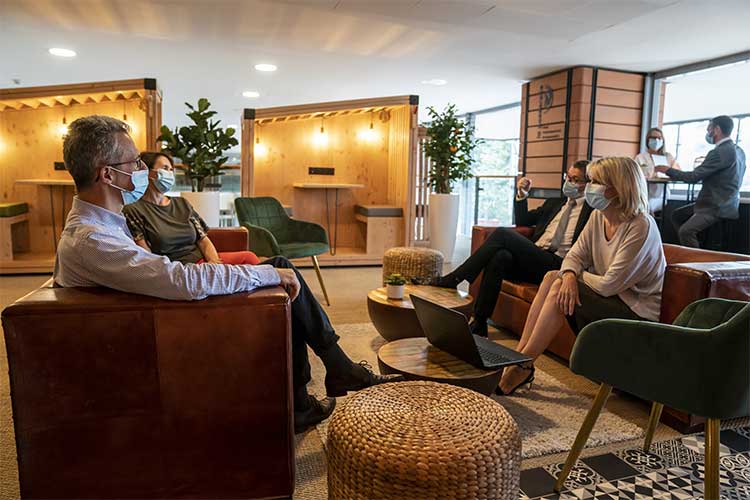 ©Quentin Lafont
LA PASSERELLE places work stations at the disposal of its members and provides them with a space where they can meet peers, partners or customers and foster relations with a professional ecosystem in order to facilitate project development.
THE PASSERELLE, promoting links and networking, as well as transition
The name of this new collaborative work space was not chosen by chance: LA PASSERELLE creates links and relations between the various trades and organisations involved in the events sector, whatever their size, with a view to promoting unity and collaboration. 
It is also an explicit reference to the transition that the event industry is currently undergoing, and that GL events' venues in Lyon wish to encourage.
The project reflects GL events' desire to contribute to the development of local excellence through the development and coordination of different areas of know-how.
The name of LA PASSERELLE is also a reference to the area it occupies within the Lyon Convention Centre. Located on the upper level above the main entrance of the building, looking onto the Rhône River, it physically joins two sides of the hall that it overlooks.