GL events is the official supplier to this new event
 
"La Mer XXL" (XXL Sea) exhibition invites everyone who is interested in the maritime world to this amazing event in Nantes from 29 June to 10 July. Co-organised by the Ouest-France Group's maritime division et Exponantes, this first large-scale exhibition devoted to the oceans promises to be lively, spectacular and informative. The general public is invited to come and discover the sea, its resources, its diversity and beauty.

Like the universal exhibitions of the 19th century, "La Mer XXL" brings together hundreds of professionals, scientists, artists, sportspeople and inventors to address 7 themes, open to everyone: the sea as a source of energy, the sea that inspires dreams, the sea that gives life, the sea that creates happiness, the sea that provides food, the sea that heals and the sea that must be protected.
The content of the exhibition has been designed to include practical activities and tangible experiences, while the décors plunge you into world of dreams and imagination. Every discipline linked to the maritime world will be represented: arts, sciences, sports, gastronomy, biodiversity, technology, and more. Only the most avant-garde, incredible and ingenious projects have been selected by the committee of experts.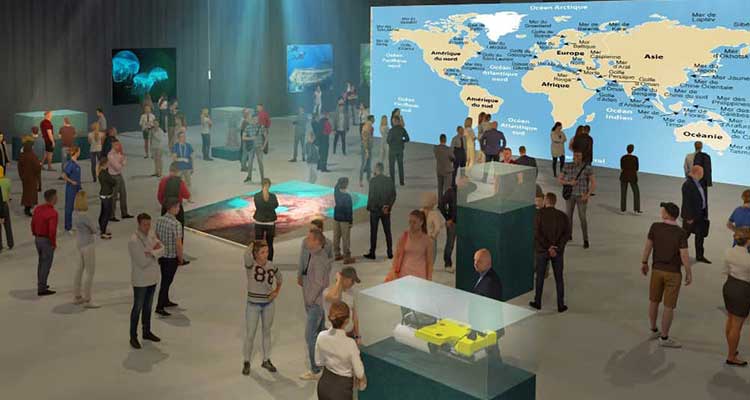 © Philippe Jouillat et Jess Porlier
These include the "suspended jellyfish" created by the artist Philippe Jouillat, the director of the event. He explains that he was inspired by Jules Vernes (the famous French writer from Nantes) whose literary works extol the marine world: "I asked myself how Jules Verne would have imagined our future. I decide to translate this idea into 5 distinct worlds. For example, I imagined a world where we would have giant 10-metre-wide, domesticated jellyfish that would provide us with food, energy and light."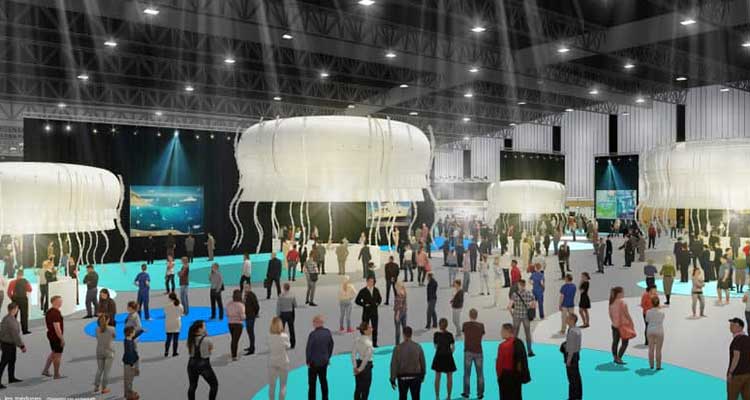 © Philippe Jouillat et Jess Porlier
Thanks to the work of its various entities, such as GL events Audiovisual, GL events Mobilier and Sign'Expo, GL events has provided various general contracting services for this amazing event, as well as furniture and customised stands.