From 5 to 8 December, the City of Lyon will light up
Over the next four evenings, illuminations will shine around the City of Lyon when night falls. In every district, light will glow across the streets, squares and monuments creating a truly a magical atmosphere for visitors. With a total 36 "Works of Light" spread around the city, visitors will be able to (re)discover Lyon and its various districts by following 4 circuits that have been specially laid out for the event. Once again, GL events Audiovisual is actively involved in bringing the event  to life by providing its expertise and technical solutions for the artistic light shows.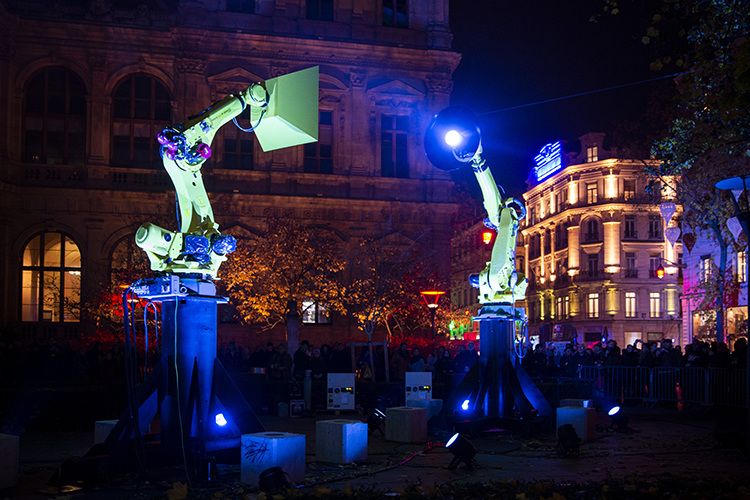 © Thierry PERRE - "Light Me" by Séverine Fontaines
A brief review of the various services provided:
GL events Audiovisual will be in charge of the technical production, sound and lighting for the "Light Me" show created by Sévérine Fontaines on the Place de la Bourse. This poetic work of art is based on a "living" stage set composed of three robot lamps, reflecting how people interact with those around them. The lamps will interact with the public, lighting up the surrounding façades as well as all the visitors in the vicinity,
For "ORDER200" designed by Emilien Guesnard, the teams provided technical assistance for installing the project. This minimalist work of art is made up of 200 marine lamps lined up at regular intervals in perfect symmetry with the lights fixed to the ceiling of the Cour des Moirages,
GL events Audiovisual is also providing services for the Fête des Lumières Partners Club. The teams have installed sound, light and video systems in the Salle de la Corbeille at the Palais de la Bourse, which is the general reception area for the Fête des Lumières,
Provision of a sound, light and video system for the gala evening at the City Hall on Friday 5 December, 
Partner to the Paul Bocuse Halles de Lyon retailers' association, with garlands of light installed around the venue.