Art work on the façades of the Palais Brongniart from 25 July to 30 August 2019

As part of a competition organised by the Palais Brongniart, in partnership with the city of Paris, the second-year students from the Ecole Professionnelle Supérieure d'Arts Graphiques (EPSAA [French Graphic Arts School]) took part in the inaugural edition of the "Street Packing" show.
In order to select a winner among the eighteen projects presented by EPSAA students, the works were assessed by a jury on 23 May. The jury was made up of Olivier Ginon, the Chairman of GL events, Jérôme Pernoud, the Director of EPSAA, Jean-Michel Wilmotte, an architect and urban planner, Nikos Aliagas, a journalist, TV presenter and photographer, Armand Hadida, the founder of TRANOI and L'Eclaireur, Carine Saloff-Coste, Director of Community Promotion and Employment (Paris Town Hall), Marie-Christine Lemardeley, Assistant Director for Higher Education, Student Life and Research (Paris Town Hall)), Pierre Clavel, Director of Heritage and External Relations (Artvertising - JCDecaux) and Patricia Houg, Director of Cultural Development at GL events.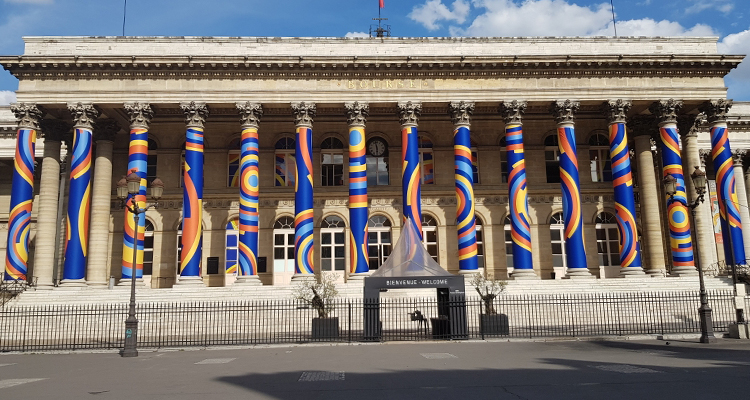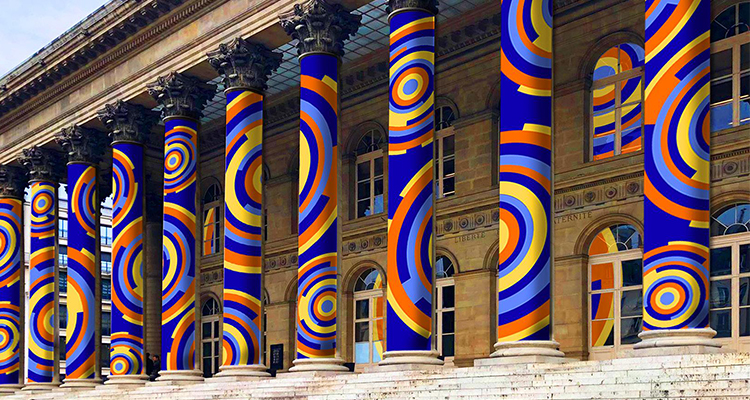 For more than a month, the Palais Brongniart will give Parisians and tourists the chance to enjoy a spectacular temporary art exhibition installed on its façade. The 14 columns of the former Paris Stock Exchange will be decorated by the works of Léa Degez, the EPSAA student who won the first Street Packing prize. All the other high-quality projects will be exhibited on the fences around the Palais.
The Artivive application will enable people with smartphones to immerse themselves in this interactive work thanks to an animation that pays tribute to the mechanisms of the former Paris Stock Exchange, creating an amazing trompe l'oeil art work that is more than ten metres high and thirty-five metres wide. 
As a flagship monument of Paris, the Palais Brongniart aims to embrace all new forms of innovation, particularly artistic projects, as demonstrated by its partnership with EPSAA.