Four key themes at the heart of this year's exhibition
Eurobois – the trade fair devoted to the timber sector, as well as machinery for processing wood and making furnishings and fittings – will take place from 14 to 17 June 2022 at Eurexpo, Lyon.
Over the course of four days, Eurobois will bring together professionals from every sector of activity that uses wood as a raw material – including saw-mill managers, joiners, cabinet-makers and decorators – in order to exchange ideas, discover the latest innovations and create new business opportunities. 
This year's exhibition will develop the four main thematic sections that were initially launched at Eurobois 2020: employment and training, initial timber processing stage, digitisation of production, and furnishing and fittings.
 
An exhibition that includes several key events and highlights
The four-day exhibition will include several events and highlights to showcase the sector's specific areas of expertise and promote contacts and exchanges:
-    The Eurobois Campus, an area devoted to meetings and discussions concerning opportunities for employment and training in the wood industry
-    The manufacturing workshop for timber-frame-house panels
-    The Eurobois Awards, rewarding innovations, new products and technological developments in the sector
-    The Eurobois TV studio will host conferences, round tables and interviews
-    The COHOME BELLEVILLE CLUB (organised by the French furniture manufacturers association and created in collaboration with the Label Expérience agency) will showcase a range of user-friendly, practical and innovative solutions
-    Preparation session for the French team ahead of the European Carpenters' Championship
-    La Canopée innovation competition, organised by Forinvest Business Angels, the École Supérieure du Bois, Fibois France and Xylofutur; this competition is devoted to innovation in the forestry and wood industry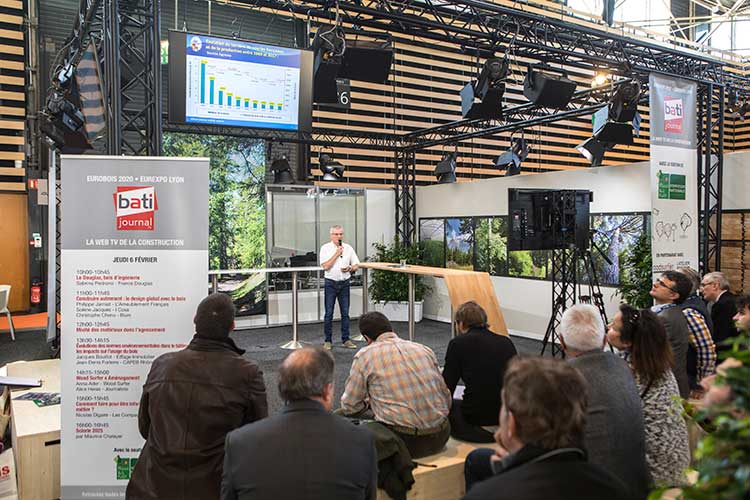 ©Alexandre Moulard
EUROBOIS CONNECT facilitates the organisation of targeted business meetings
In order to facilitate and foster business meetings and discussions during the event, Eurobois has set up EUROBOIS CONNECT to help exhibitors and visitors organise targeted meetings. This application allows you to organise face-to-face or remote meetings and highlights the innovations presented at the show.