The CFIA celebrates its 25th anniversary
The CFIA, the food processing sector, will be held from March 8 to 10, 2022 at the Parc expo - Rennes Airport. This new edition marks the 25th anniversary of the show and is getting some new features for the occasion! 
More than 1,600 exhibitors divided into 3 poles are expected: ingredients & IAP (Intermediate Food Products), equipment and processes, packing and conditioning. 
A 2022 edition to follow live and in replay
This year, CFIA offers visitors the possibility to follow the show and its highlights live and in replay thanks to 4 thematic channels: conferences, innovations, highlights and keynotes. Find more information here.
The show is marked by key moments and animations
The issues and challenges of the food industry are highlighted during these three days through animations, conferences and competitions. 
For the Innovation Awards, a competition that recognizes the innovations of CFIA exhibitors, 12 companies have been selected and nominated. Come to the Agora (entrance 7/8) on Tuesday, March 8, from 12pm to 1 pm to attend the award ceremony for the four winners.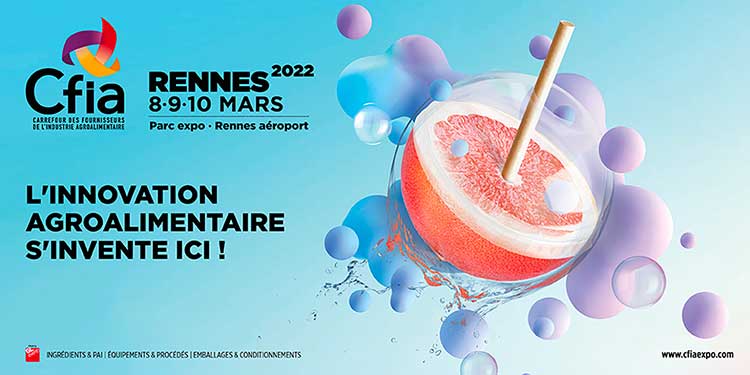 Other highlights are planned such as :
- Conferences on various topics: cybersecurity, the Egalim 2 law or sustainable development
- Work in Agro: in partnership with Abea, Ifria and Jobalim, CFIA is organizing an event on employment in the food industry. On the program: job dating, pitches for HR with concrete feedback and the promotion of food industry jobs through virtual reality 
- The Low Carbon Factory space: in order to meet the new expectations of consumers, CFIA is dedicating its Agro Factory of the Future space to the Low Carbon Factory