Eco-responsibility, technology and inspiration at the heart of Première Vision Paris
This coming 11th to 13th February, Première Vision Paris will bring together the upstream players in the global creative fashion industry to steer and inspire them for the Spring-Summer 21 season. Featuring a selective offer from 1,755 exhibitors, a full cycle of conferences, inspirational spaces and insightful seminars prepared by the Première Vision teams, the show will give visitors the keys they need to design and create innovative, creative and eco-responsible collections.
© Carole Desheulles - Première Vision Paris 2019
This unique event is organised by Première Vision SA, a company in which GL events Exhibitions has a 49% shareholding.
An offer closely tailored to visitors' needs
A brand new Smart Creation space in Hall 3, which brings together the former Wearable Lab (fashion tech) and Smart Creation (responsible creation) spaces, to highlight the two major innovation issues: eco-responsibility and technology. 
Top artisans will be presented at Maison d'Exceptions, for visitors seeking to develop unique and custom-made products.
A world tour of manufacturing sourcing is proposed in the Manufacturing universe, to discover a diverse and extensive range of fashion manufacturers.
A dive into the Première Vision Marketplace, which this season opens the platform to spinners providing a way to prolong business and exchanges initiated at the show
An inviting program
An immersive exhibition, Mutations, examining the relationship between technology and nature. 
The Musée des Arts Décoratifs comes to Première Vision Paris with a conference on the history of footwear and a preview of the exhibition "Marche et Démarche, a history of the shoe", of which Première Vision is a sponsor
A comprehensive conference cycle providing a wealth of information about key issues facing the industry: eco-responsibility, leather bashing, materials, and the aspirations of the new generations...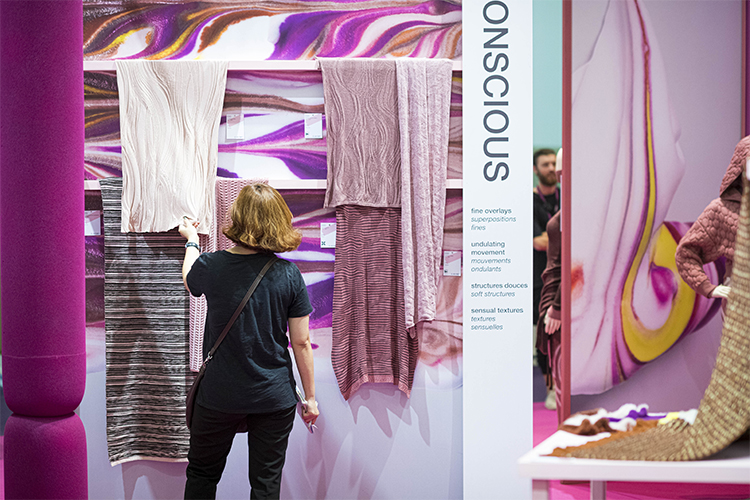 © Alex Gallosi - Première Vision Paris 2019
Exclusive fashion information
12 fashion forums and exclusive seminars held daily − including one dedicated to the sports market. Première Vision Paris explores all the season's leading trends to provide analysis, decoding and inspiration to fashion ever more creative collections.