Sanitary guidelines, commercial conditions… exceptional measures for exhibitors and visitors
Trade shows are major public events for our territories, where conviviality, social meetings and business opportunities are strongly mixing. Dedicated to exhibitors and merchants, they are fully committed to their different kind of partners.
That's why the 8 fairs of GL events have taken the decision to implement common and consistent measures in order to make their event happen.
Organisers' primary concern : to ensure that exhibitors and visitors can be accommodated on their site in the best possible hygiene and sanitary conditions with new space delimitation to preserve social distancing, masks for all, reinforced protocols for cleaning and crowd controls on each zone.
To help exhibitors, our 8 fairs are offering exceptional participation conditions on registration details and payment terms.
By taking part to a trade fair, you choose the perfect medium to relaunch your activity and the economy, supported by the acknowledged experience of 8 professional organisers.
Participating in these Fairs means you take advantage of an effective medium to help relaunch your business activities, drawing on the support and acknowledged experience of the eight organisers.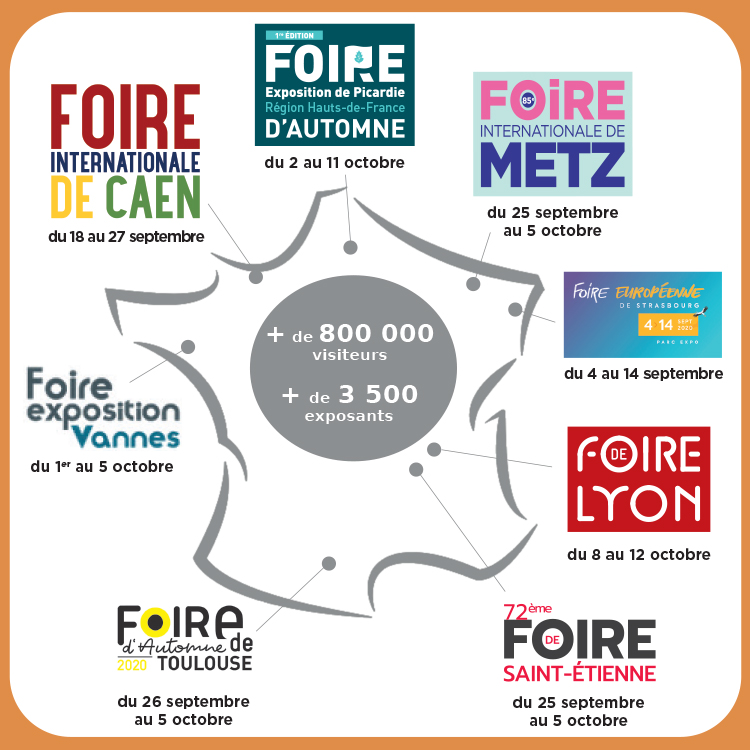 Foire Européenne de Strasbourg from 4 to 14 September
Foire internationale de Caen from 18 to 27 September
72ème Foire de Saint-Etienne from 25 September to 5 October
Foire Internationale de Metz from 25 September to 5 October
Foire d'Automne de Toulouse from 26 September to 5 October
Foire exposition de Vannes from 1 to 5 October
Foire Exposition de Picardie Région Hauts-de-France d'Automne from 2 to 11 October
Foire de Lyon from 8 to 12 October
The primary concern of GL events is to ensure that the events can be organised and visitors, exhibitors and delegates can be accommodated in our venues with the best possible hygiene conditions and health security.
In its 50 venues in France and in the world, the Group have implemented health security measures and facilities to prevent Covid-19 risks.
>>
Sanitary guidelines GL events Venues
>>
Informations Coronavirus - COVID-19