Optimum health safety conditions for exhibitors and visitors
Consumer fairs are major international and regional events aimed at the general public. These types of events are committed to providing the best services to the exhibitors and retailers involved in the fairs and have strong relationships with their partners, making them dynamic platforms for business and exchanges; with this in mind, eight consumer fairs belonging to the GL events Group have decided to join forces to put in place a single protocol to ensure their events run smoothly.
The organisers' main priority is to ensure optimum health and safety conditions for their exhibitors and visitors:

- the event spaces will be redesigned to guarantee the requisite social distancing measures,
- the exhibitors and visitors will wear masks,
- visitor traffic flow will be managed throughout the event, for the fair as a whole and by zone,
- a reinforced cleaning protocol will be implemented.
The eight fairs will be offering exhibitors exceptional participation terms:

- exhibitors can register without being obliged to make an initial down-payment,
- payment of 30% of the fees 45 days before the start of the event,
- final confirmation of registration: balance to be paid 10 days before the start of the fair,
- full refund if the event is cancelled for health reasons more than one month in advance.
Participating in these Fairs means you take advantage of an effective medium to help relaunch your business activities, drawing on the support and acknowledged experience of the eight organisers.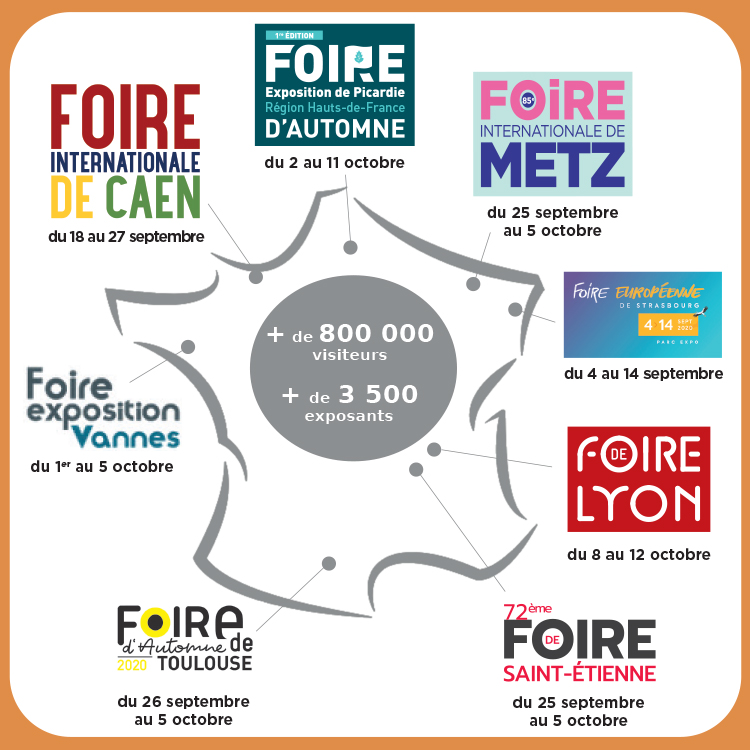 Foire Européenne de Strasbourg from 4 to 14 September
Foire internationale de Caen from 18 to 27 September
72ème Foire de Saint-Etienne from 25 September to 5 October
Foire Internationale de Metz from 25 September to 5 October
Foire d'Automne de Toulouse from 26 September to 5 October
Foire exposition de Vannes from 1 to 5 October
Foire Exposition de Picardie Région Hauts-de-France d'Automne from 2 to 11 October
Foire de Lyon from 8 to 12 October
The primary concern of GL events is to ensure that the events can be organised and visitors, exhibitors and delegates can be accommodated in our venues with the best possible hygiene conditions and health security.
In its 50 venues in France and in the world, the Group have implemented health security measures and facilities to prevent Covid-19 risks.
>>
Sanitary guidelines GL events Venues
>>
Informations Coronavirus - COVID-19